Team
1967 Saskatoon Centennials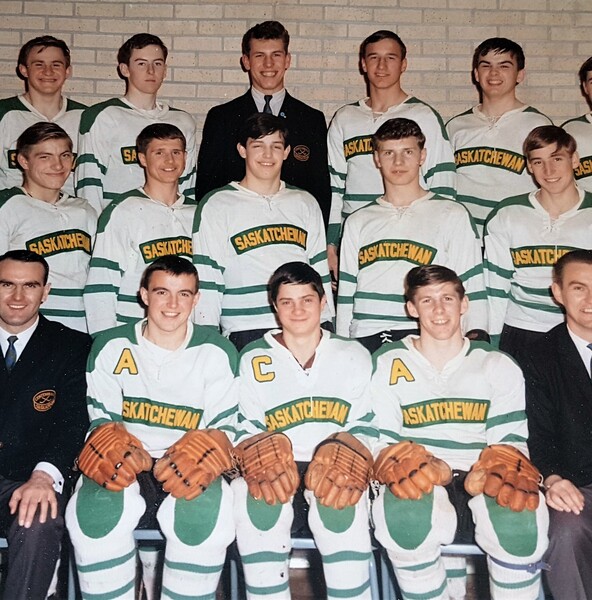 The 1967 Saskatoon Centennials (Team Saskatchewan) have been inducted into the Saskatchewan Hockey Hall of Fame in the Team category.
The year 1967 was a unique year in Canada's history as it marked the 100th year since confederation. To commemorate this occasion, a national championship at the Midget age level named the Centennial Cup would be presented to the best hockey team in the country. Each province held their own playoffs to determine the representing team. In Saskatchewan, teams from all over would compete to claim this prestigious spot.
In Saskatoon, a selection process determined the group that would embark on this journey. The Saskatoon-based team led by Head Coach Terry Bichnell competed in the Saskatchewan Juvenile league, competing against players much older than they were. Once playoff season rolled around, the Saskatoon team would have to beat three opponents to have the privilege of representing Saskatchewan at the Centennial Cup. On route to the cup, Saskatoon would beat the Swift Current Legionnaires in the quarter-final, the Melfort-based team in the semi-final and lastly, Weyburn to claim the provincial title.
The national tournament was held in late March in Kingston, Ont. The boys from the Bridge City would travel cross-country by train to arrive at the tournament. Teams representing British Columbia, Alberta, Manitoba, Thunder Bay District, Ontario, Ottawa District, Quebec, Prince Edward Island, New Brunswick, Nova Scotia, Newfoundland and Northwest Territories would compete in a two-pool, round-robin.
Team Saskatchewan would fair well, beating British Columbia, Manitoba, Newfoundland, New Brunswick and the Northwest Territories before losing to Team Ontario by a score of 3-1. With that loss, Team Saskatchewan would finish outside of the Gold Medal game. Despite the finish, Team Saskatchewan would claim Bronze in the competition by virtue of their round-robin record.
The team featured many future National Hockey League players including Orest Kindrachuk, Don Kozak and Lawrence Sachcurak. The team's trainer was Ed Chynoweth, a member of the Saskatchewan Hockey Hall of Fame's Induction Class of 2012.
Members of the 1967 hockey club include:
Rich Pitchko, Larry Cole, Bob Faulkner, Dick Grassie, Mick Shaw, Larry Brown, Murray Fairweather, Ron Wallace (Mgr), Dale Thiessen, Lawrence Sacharuk, Bill McBean, Bill Thomson, Mel Grosse, Charlie Cairns, Terry Bicknell (Coach), Bob Will, Ron Casey, Dick Harvey, Orest Kindrachuk, Don Kozak, Howie Hicks.
Back to Inductees