Team
1965-1972 Simpson Flyers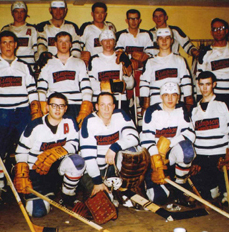 The Simpson Flyers have been inducted into the Saskatchewan Hockey Hall of Fame in the Team category.
The Flyers are being inducted for their outstanding provincial performances from 1965-72. The team started in 1952 as an intermediate team. Over the eight years, 52 players were on the Flyers roster. The team took part in exhibition, tournament, league, and provincial games.
For the team's first year in the Long Lake Hockey League, they were the Intermediate Northern Provincial Champions. Two years later, the team joined the Last Mountain Hockey League and won the provincial championship.
Over the course of eight years from the 1966-67 to the 1972-73 season, the Flyers were able to collect six SHA (now Hockey Saskatchewan) Senior "D" Provincial Championships.
Members of the 1965-72 Flyers teams include:
Glen Busse, Lenard Crittenden, Jim Ellams, Ken Elder, Gabe Freeman, George Freeman, Barry Gibbs, Dennis Gibbs, John Groenveld, Allen Hannay, Rick Hicks, Don Hoornaert, Gordon Howet, Don Herr, Raymond Kingston, Dallas McCallum, Brian McDade, Bev. McDougal, Bob Moren, Glen Moren, Allan Pieper, Floyd Pieper, Keith Pieper, Ron Quennell, Stan Sivertson, Don Smith, Bucky Stewart, Greg Tiltemore, Mike Tiltemore, Tracey Ullyott, Bing Vanthuyne, Dennis Vanthuyne, Gary Vanthuyne, Glendon Vanthuyne, George Vanthuyne, Jerry Vanthuyne, Julius Vanthuyne, Lyndon Vanthuyne, Wayne Vanthuyne, Ken Wilson, Glenn Crawford.
Back to Inductees