Team
1933-1934 Saskatoon Quakers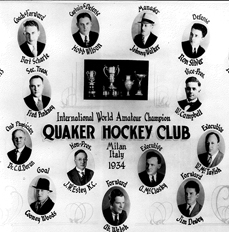 1933-1934 Saskatoon Quakers – The 1933-34 Saskatoon Quakers are being inducted into the Saskatchewan Hockey Hall of Fame in the Team Category.
The Quakers were a dominate team not only in Saskatchewan but across the globe. The 12 player team make their presence felt on the international level. On March 1st, 1934 the team traveled to Milan Italy to take part in the International World Amateur Championships.
The tournament consisted of a 12 team round robin format. The team went on to beat the USA in the finals 2-1.
Back to Inductees