Team
1913-1914 Regina Victorias Hockey Club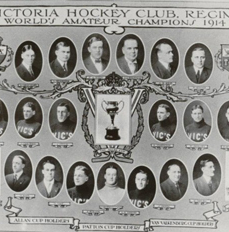 The 1914 Regina Victorias deserve this honour thanks to what they were able to accomplish in their very first year of existence.
The club won the Allan Cup in the inaugural season of 1913-14 against Grand-Mere, Que.
In those days, the Allan Cup was as big a deal as the Stanley Cup is today.
Members of the team were as follows:
J. Kain, J. Tait, Fred Wilson, J. Brown (Physical Instructor), Lyman Abbott, J. Potts, C. Young, Frank Mastel, Austin Creswell, Charlie Otton, Alvin Hammond, Walter Molisky, Fred McCulloch, A. Urquhart, G. Woolside, C.A. Wood, J.A. Westman, G.B. Reid (Mgr), F. Ritter.
Back to Inductees