Team
Simpson Flyers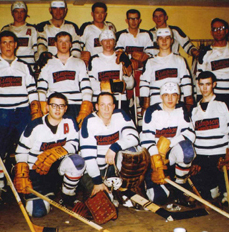 Simpson Flyers – The Simpson Flyers are being inducted into the Saskatchewan Hockey Hall of Fame in the Team Category.
The Flyers are being inducted for their outstanding provincial performances from 1965-1972. The team started in 1952 as an intermediate team. Over the eight years 52 players were on the Flyers roster. The team took part in Exhibition, Tournament, League, and Provincial games.
In the team's first year in the Long Lake Hockey League they were the Intermediate Northern Provincial Champions. Two Years later the team joined the Last Mountain Hockey League and won the Provincial Championship. Over the course of eight years the Flyers were able to collect six SHA Provincial Championships.
Back to Inductees