Builder
Gerald "Gerry" James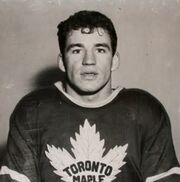 Gerald "Gerry" James was born in 1934 in Regina. At an early age, James would move to Winnipeg and graduate from Kelvin High School. James was a duel-sport athlete, playing competitively in both hockey and football. At age 16, James was playing for the Winnipeg Monarchs Junior hockey team and a year later would become the youngest Canadian Football League (CFL) player to ever play.
In 1951, James would move to Toronto to play for the Toronto Maple Leafs' Junior affiliate, the Toronto Marlboros. With the Marlboros, James would win the 1955 Memorial Cup – only a few months after winning his first of two CFL Most Outstanding Canadian awards. A few days after the Memorial Cup win, James made his NHL debut with the Toronto Maple Leafs. During James' career, he would appear in 149 NHL games, scoring 14 goals and adding 26 assists along with 257 penalty minutes.
Following his playing career, James would become heavily involved in coaching Junior hockey throughout the province. James served as head coach of the Saskatchewan Junior Hockey League's Yorkton Terriers in 1973-74, the Melville Millionaires from 1975-1980, Yorkton Terriers again from 1980-84 and finally the Estevan Bruins in 1984-85. During his SJHL coaching career, James had a record 333 wins in 536 games and would capture the league championship in 1982-83 and 1984-85 with the Terriers and Bruins, respectively. James finished his coaching career with the Moose Jaw Warriors of the Western Hockey League in 1988-89.
James would go on to be inducted into the Canadian Football Hall of Fame in 1981, the Manitoba Sports Hall of Fame in 1982, the Saskatchewan Sports Hall of Fame in 1994, the Yorkton Sports Hall of Fame in 1998, and the Winnipeg Blue Bombers Hall of Fame in 1999.
Back to Inductees