Team
1983-84 Weyburn Red Wings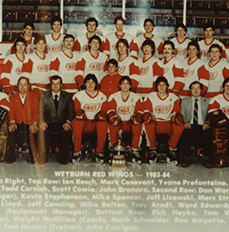 The 1983-84 Weyburn Red Wings Hockey Club is being inducted into the Saskatchewan Hockey Hall of Fame in the Team category.
The Red Wings had an incredible championship season in 1983-84 when they captured three titles making them Provincial, Western Canadian and National champions all in one season.
They had a solid regular season where they finished in second place in the Saskatchewan Junior Hockey League (SJHL) which also earned them a playoff berth. They went on to defeat North Battleford, Melville and finally Yorkton to claim the league championship. They then proceeded to defeat a team from Langley, B.C., to win the Western Canadian Junior Hockey Championship which then sent them to nationals. It was there that their victory over Eastern Canada's Junior Champions from Orillia, Ont., led them to be named National champions and claim the Centennial Cup.
The 1983-84 Weyburn Red Wings were coached by Dwight McMillan. The team was inducted into the Saskatchewan Sports Hall of Fame in 1995.
Back to Inductees