Team
1982 Prince Albert Raiders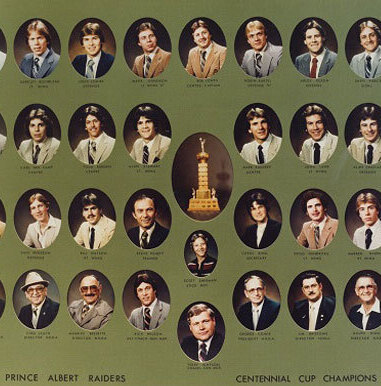 The 1982 Prince Albert Raiders were inducted into the Saskatchewan Hockey Hall of Fame in the Team category. At the time, the Raiders were a Junior A team and founded in 1971. The team was dominant during league play with a record of 57-3-0, which gave them a 0.950 winning percentage.
The Raiders won the league and moved on to the Anavet Cup and Centennial Cup. When it came to playoffs, they defeated Humboldt, Swift Current, and Yorkton in four games to zero. They then faced the Fort Garry Blues and won four games to two before defeating the St. Albert Scouts four games to one. During the Centennial Cup Final, the Raiders won four games straight against Guelph.
During the Centennial Cup, Carl VanCamp was the MVP as well as one of the Tournament All-Stars. Other Raiders that made the Tournament All-Star Team include Barkley Rochelean, Bill Watson, Tiger Pierce, and Dave Reierson.
Back to Inductees