Team
1982 Prince Albert Raiders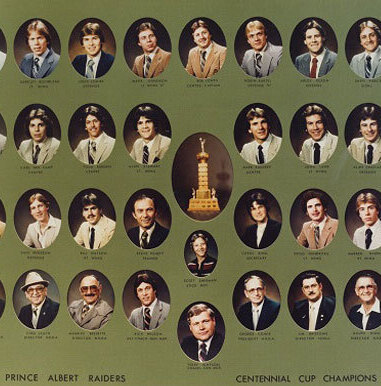 The 1982 Prince Albert Raiders are being inducted into the Saskatchewan Hockey Hall of Fame in the Team Category. At this time the Raiders were a Junior A team and founded in 1971. The team was dominate during league play with a record of 57-3-0, which gave them a 0.950 winning percentage.
The Raiders won the league and moved onto the Anavet Cup and Centennial Cup. When it came to playoffs they defeated Humboldt, Swift Current, and Yorkton in 4 games to 0. They then faced the Fort Garry Blues and won 4 games to 2 before defeating the St. Albert Scouts 4 games to 1. During the Centennial Cup Final the Raiders won 4 games straight against Guelph.
During the Centennial Cup Carl VanCamp was the MVP as well as one of the Tournament All-Stars. Other Raiders that made the Tournament All-Star Team include Barkley Rochelean, Bill Watson, Tiger Pierce, and Dave Reierson.
Back to Inductees