Team
1956-57 Flin Flon Junior Bombers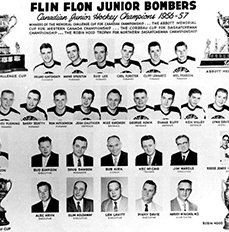 The 1956-57 Flin Flon Junior Bombers Hockey Club have been inducted into the Saskatchewan Hockey Hall of Fame in the Team category.
During the first decade of the Saskatchewan Junior Hockey (SJHL), the Bombers won seven league titles; however, the 1956-57 squad was the first to finally capture a national title and become Memorial Cup champions.
They were dominant over the course of the regular season as they finished with a 46-5-2 record. They went on to defeat Humboldt and Prince Albert to capture the league title. They then proceeded to defeat Edmonton and Fort William to claim the Abbott Cup which was awarded to the Junior 'A' champions in Western Canada. The Bombers continued their winning ways as they faced off against Ottawa and, after a seven-game battle, the Bombers were named Memorial Cup champions.
The 1956-57 Flin Flon Junior Bombers were coached by Bobby Kirk and many of the team's players went on to play professionally. The team was inducted into the Saskatchewan Sports Hall of Fame in 2009.
Back to Inductees